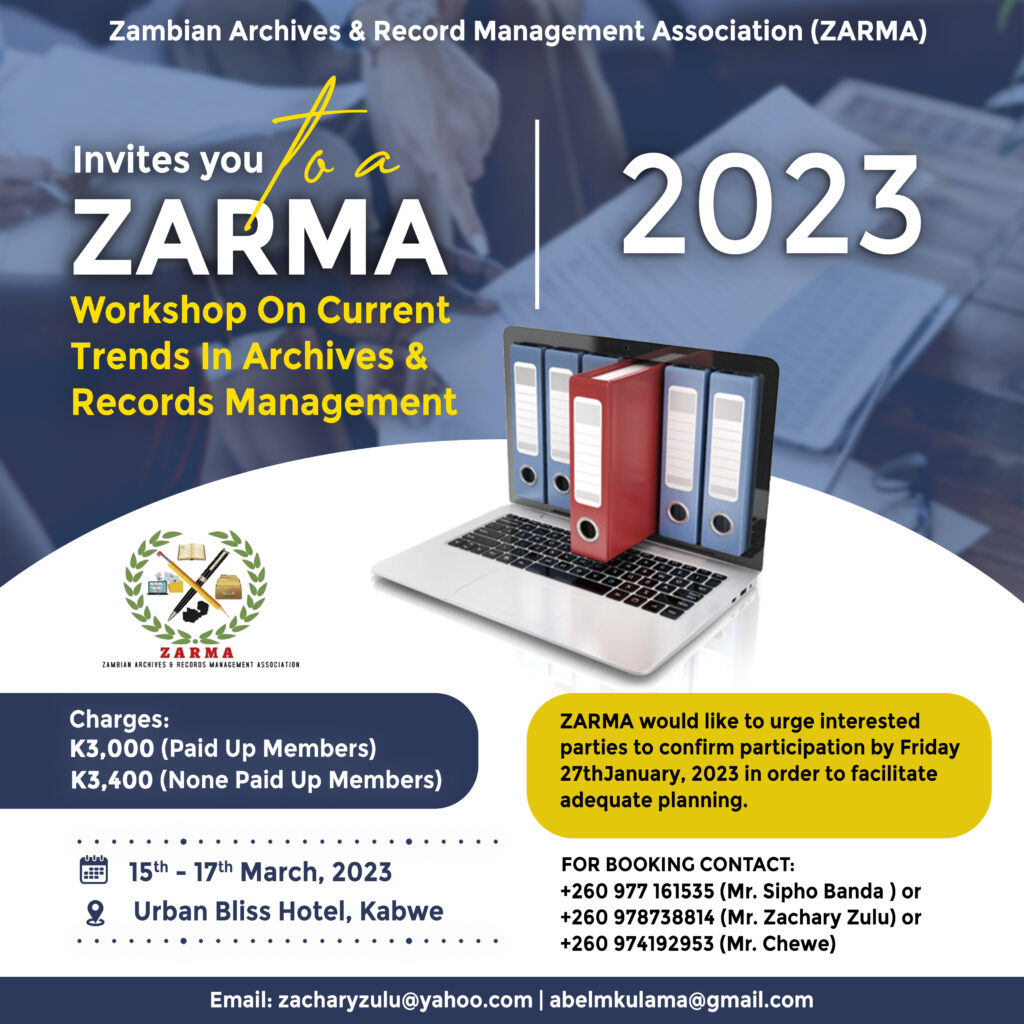 Current Trends in Archives and Records Management Workshop – ZARMA
The current information landscape and competitive environment requires that information management professionals are well vested in practices and emerging trends in records and archives management.
Objectives
This workshop aims to equip participants with best practices, skills and knowledge to effectively manage information resources in an efficient and cost effective way. All the materials (slides, booklets and videos) will be available for participants during and after the workshop.
Venue: Urban Bliss, Kabwe
Dates: 15 –17 March 2023
Day 1:15th March 2023

TIME

ACTIVITY

 

08:30 – 08:45

Participant Registration

All

08:45 – 09:15

Welcome Remarks

Introductions of participants & their organisations

Expectations

 

09:15 – 10:15

Official opening  

Guest of Honor

10:15 – 10:30

TEA/COFFEE BREAK

All

10:30 – 11:00

PRESENTATION: EMERGING TRENDS IN ARCHIVES AND RECORDS

Speaker

11:00 – 12:00

Open discussion

All

12:00 – 12:30

PRESENTATION: HYBRID RECORDS MANAGEMENT

Speaker

12:30 – 13:00

Open discussion

All

13:00 – 14:00

LUNCH

 

14:00 – 15:30

PRESENTATION: EMAIL RECORDS MANAGEMENT AND PRESERVATION

Speaker

15:30 – 16:00

TEA/COFFEE BREAK

 

16:00 – 16:30

Practical Session (Capture, Appraisal and Archiving of Email records)

All

 

Day 2: 16th March 2023

TIME

ACTIVITY

 

08:30 – 09:00

Recap of day 1

 

09:00 – 10:00

PRESENTATION: SOCIAL MEDIA RECORDS MANAGEMENT & THEIR CHALLENGES

Speaker

10:00 – 10:20

TEA/COFFEE BREAK

 

10:20 – 10:45

Open discussion

All

10:45 – 11:15

PRESENTATION: DEVELOPING AND IMPLEMENTING RETENTION SCHEDULES IN A HYBRID ENVIRONMENT

Speaker /National Archives of Zambia  

11:15 – 13:00

Group work

 

13:00 – 14:00

LUNCH

 

14:00 – 15:30

Open discussion

All

15:30 – 15:50

TEA/COFFEE BREAK

 

15:50 – 16:30

SGS PRESENTATION

SGS Rep

Day 3: 17th March 2023

08:30 – 09:00

Recap of day 2

 

09:00 – 09:30

PRESENTATION: WEB ARCHIVING

Speaker

09:30 – 10:00

Q&A session

All

10:00 – 10:20

TEA/COFFEE BREAK

 

10:20 – 10:50

PRESENTATION: ETHICAL ISSUES

Speaker

10:50 – 11:30

Open discussion

All

11:30 – 12:00

Way Forward – Future Plans & Certificate Presentations

Facilitator

12:00 – 13:00

Vote of thanks / Closing Remarks

Participant

13:00 – 14:00

LUNCH

All